How a New Test Could Solve a Costly Problem
A molecular diagnostics company wants to expand its new cartridge-based platform to help orthopedic surgeons make more informed care decisions for patients with a potential joint infection.
Curetis is currently expecting an FDA decision on its new cartridge-based diagnostic platform, the Unyvero system, for lower respiratory infections.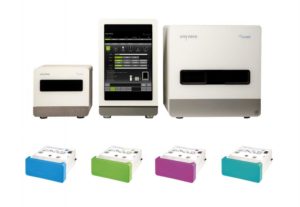 The company is also collecting samples to pursue a second indication to use the platform to test for invasive joint infections.  There's a costly problem affecting orthopedic patients and hospital systems, and a European molecular diagnostics company wants to be part of the solution.
Patients who have had a prosthetic joint replacement sometimes find themselves back in the hospital in excruciating pain that could either be caused by an invasive joint infection or a mechanical issue. The surgeon can puncture the joint to collect a fluid sample and have it sent to a lab for a culture test, but that takes up to two weeks to produce a result using the current standard of care technology, Curetis CEO Oliver Schacht told MD+DI.
"A lot of the bugs that cause these infections on a hip or knee implant form a biofilm that is very hard to diagnose at all," Schacht said. "A lot of these bugs don't grow very well."
On top of being difficult to diagnose, the treatment is no cake walk either. "They're extraordinarily hard to treat with antibiotics because they're forming this closed biofilm on your hip or knee implant and the antibiotics don't really get to that film of bugs," Schacht said.
In absence of diagnostic information, the frequent treatment pathway is revision surgery in which the surgeon removes the implant, inserts a temporary spacer, has the implant cleaned, and later reimplants the prosthetic. This is often done as part of a two-step process that leaves the patient immobilized for several weeks while they wait to have their prosthetic reimplanted.
"On the one hand that's of course extremely painful and debilitating for the patient, but it's also costing the hospital system a lot of money," Schacht said, adding that those revision surgeries can cost anywhere from $80,000 to $100,000.
Curetis is still awaiting an FDA clearance decision on its Unyvero platform for an initial application of testing for lower respiratory tract infections like pneumonia in hospitalized patients, but the company is already collecting patient samples to pursue joint infection as a second indication. If cleared, the test could potentially produce a result in a matter of hours, rather than making the patient and the surgeon wait up to two weeks for a culture test. That would tell surgeons if they even need to do a revision surgery at all, and if so, does it have to be a two-step procedure or could it be done in a one-step operation.
Curetis is based in Amsterdam, the Netherlands, but plans to launch the test through its own direct sales and marketing operations in the United States. In Europe, where the platform was originally developed, the Unyvero system is also able to test skin and tissue samples for other infections caused by similar bacteria or fungi, Schacht said.
Over time the company plans to seek FDA clearance for additional infectious disease application cartridges, but the focus will always be on critical care hospital patients, he said.
"The more the platform gets utilized the more value it will add both clinically for the patients, but also economically for the hospitals," Schacht said.