Randox and Bosch to Launch Game-Changing Vivalytic Point of Care (POC) Coronavirus Test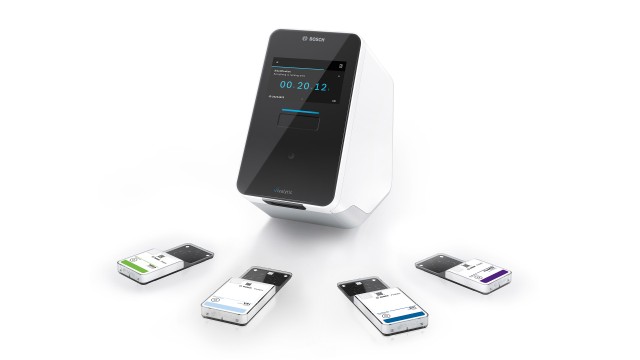 By HospiMedica International – 28 Mar 2020.Global diagnostics company Randox Laboratories (Crumlin, UK) and leading technology manufacturer Bosch Healthcare Solutions GmbH (Waiblingen, Germany) will launch a game-changing point of care coronavirus test in April 2020. The Vivalytic Viral Respiratory Tract Infection (VRI) Array can identify SARS-CoV-2 (COVID-19) and differentiate it from nine other respiratory infections with similar symptoms, including influenza and all known coronaviruses. This provides a more comprehensive respiratory screening which enables precise and informed treatment decisions to be made.
Randox's diagnostic products and services are used in hospitals, clinical, research and molecular laboratories, food testing, forensic toxicology, life sciences, and veterinary laboratories. With a major focus in R&D, Randox scientists work in pioneering research into a range of common illnesses such as cancer, cardiovascular disease and Alzheimer's disease. The company's patented Biochip Array Technology is the world's only diagnostic grade biochip, offering a unique testing platform which allows multiple tests to be carried out from a single patient sample. Bosch Healthcare Solutions develops products and services that draw on the Bosch Group's core competencies, such as sensors to collect data, software to evaluate that data, and services based on this data analysis.
The Viral Respiratory Tract Infection Array is one of the world's first multiplex molecular diagnostic tests meeting the COVID-19 testing recommendations of the World Health Organization (WHO) and the Centers for Disease Control (CDC). The target gene for COVID-19 being used on the VRI array is ORF1ab, and for Sarbecovirus (SARS, SARS like, SARS-CoV-2) is E gene, representing conserved regions of the genome which have been chosen for their high sensitivity and specificity.
The new VRI test will be conducted on Vivalytic, a point of care platform brought to the market by Randox and Bosch. The Vivalytic system is a fully-automated, cartridge-based platform capable of both Hi-Plex and Lo-Plex testing. The cartridges are fully-sealed which minimizes the risk of contamination, require room temperature storage (space-saving), contain all the reagents on-board the cartridge and utilizes end point PCR. The test only requires a single nasal swab from the patient and an easy four step process to be carried out by the user to run the patient sample.
With the Vivalytic VRI test, physicians can quickly and efficiently distinguish between different infections with very similar symptoms, like influenza, and immediately begin the appropriate treatment. The test delivers a reliable result based on WHO guidelines in less than 2.5 hours at the point of care, i.e. in close proximity to where the patient's sample was collected. This means a time-consuming logistics chain, in which the samples have to be transported, is no longer necessary.
"This array focuses not only on the identification of the novel coronavirus strain that causes COVID-19, but also nine other respiratory infection targets simultaneously, including Influenza A and B, Sarbecovirus and MERS," said Dr. Heather McMillan, Molecular R&D Manager at Randox Biosciences. "The aim is to diagnose patients fast and accurately from a single genetic sample, maximizing containment of the virus whilst minimizing the spread. With the development of this array onto a fully automated platform, patients can be diagnosed rapidly at point of care locations globally such as pharmacies and doctor surgeries."
Related Links:
Randox Laboratories
Bosch Healthcare Solutions GmbH